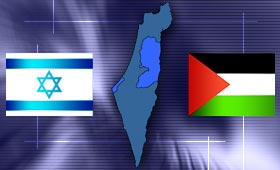 Rationale
Initiated in 2006, this website began as a supplement to the course "Israeli and Palestinian Literatures," both as a resource of links to a variety of viewpoints on the history and literature of the Israeli and Palestinian peoples, and as an archive of interviews and projects by John Carroll students. It now supports new courses on peacebuilding and postcolonial literature.
The goals: to track the personal and national narratives of these two peoples, whose conflict is neither eternal nor inevitable, and to provide the impetus for readers to be part of a solution to the conflict.
Israeli/Palestinian Literature Course Description
"Israeli/Palestinian Literatures" is a course that illuminates the ways in which Palestinians and Israelis narrate their personal and national stories in literature, staking a claim to a certain way of being and of belonging to the land which they co-inhabit.  We will examine these two national narratives through the eyes of the poets and writers with an eye to some of the following questions:
1.  How is narration itself—the ability to speak one's story on one's behalf—complicated by the problem of war, terrorism or military occupation?
2.  How do these narratives frame our understanding not simply of an individual's subjectivity, but also of a national subjectivity?  How have they shifted over time?
3.  How do these narratives complicate how "the Arab," "the Jew," "the Palestinian," "the Israeli," etc., have been represented in U.S. mass media?  In other words, what does this literature teach us that American mass media representations have not?
4.  What sorts of answers to the present Israeli-Palestinian conflict does this literature provide?
Community Participation
"Israeli and Palestinian Literatures" thrives when local community members participate in our understanding of the conflict by visiting the class or offering to be interviewed by students. If you would like to be a resource, please email me at pmetres@jcu.edu. Thank you in advance for your support. I am particularly interested in people who have direct experience in Israel/Palestine, and those who have participated in dialogue, peacebuilding, and reconciliation efforts. Guests have included Kazim Ali, Ayman Alkayali, Anna Baltzer, Gary Coleman, David Berenson, Nahida Gordon, Marilyn Hacker, Jeff Halper, Jerry Isaak-Shapiro, Ameed Kollab, Lara Kollab, Fady Joudah, Naomi Shihab Nye, David Shutkin and John Spencer. We have visited Agnon School, the Algebra Tea House, the Maltz Museum of Jewish Heritage, attended a Sabeel Conference, and viewed the play "Wrestling Jerusalem."
Student Final Projects
The following final projects–interviews, media analyses, and creative projects–reflect a diversity of student viewpoints and analyses on representations and narratives of the Israeli/Palestinian conflict. Please note: these projects do not represent the perspectives of the professor; they demonstrate the students' struggle to make sense of the very different ways in which the story of the conflict is told. As such, as with all the links on this page, readers must consider each piece partial (sometimes in both senses of the term), and must determine their validity themselves. 
Web Resources
Historical Background:
News, Alternative Media, and other Resources
Representations & Media Analysis:
Advocacy Organizations
Israeli & Palestinian Just Peace/Human Rights Activism:

Literature and the Arts: